How To Choose, Prepare and Store Asparagus
We love asparagus! We try to incorporate it into the dishes we cook as much as we can. It can be grilled, steamed, baked, sauteed, boiled and even microwaved! A medium spear that is 5 1⁄4 to 7 inches long is around 3 calories. It's rich in vitamin K which helps prevent arteries from hardening (a common factor in heart failure). It also helps build stronger bones.
Thick or Thin?
What size you buy is a matter of preference. The thin ones are sweeter while the thicker ones have a stronger asparagus flavor because it's more mature. The thick ones are ideal for roasting because they are more tender. Thin ones are ideal for soups because they contain less fibrous material. The key is to look for firm stems with a bright green color.
How do I store asparagus?
Do not wash before storing. Store in the refrigerator to keep fresh.
How do I prepare asparagus for cooking or eating?
Preparing asparagus for cooking is very easy. There are two ways we like to use: Peeling and Cutting. The bottom of an asparagus stalk can be very rough.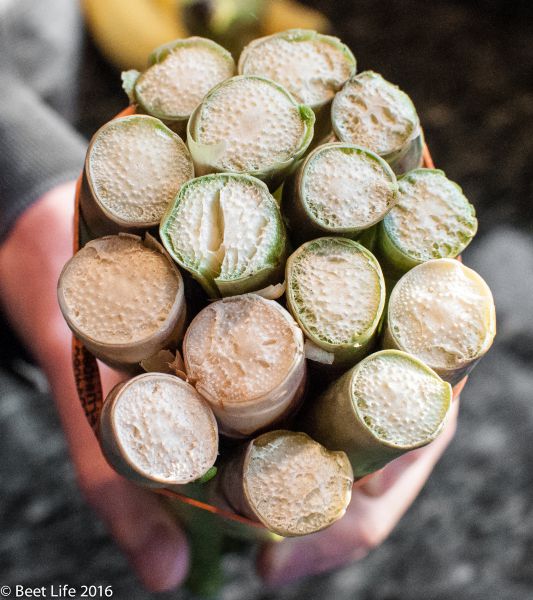 Cutting or peeling prevents stringiness when the asparagus is cooked. It also cuts down on cooking time. In our experience, cutting works best for thin asparagus while peeling works best for thick ones.
Clean and Peel
Instructions
After washing, use a vegetable peeler to peel the outer layer of the lower stem of the asparagus.

When you're done peeling, it should look like this:
Clean and Cut
Instructions
After washing, snap or cut off the dry ends of asparagus.

When you're done cutting or snapping off the dry ends, it should look like this:
After that, you're good to go. Happy Cooking!
Remember to tag your creations with #ourbeetlife!
Disclaimer - This is not a sponsored post. We are not affiliated with any products or brands shown or mentioned in this post and we did not receive any compensation for writing this post at the time of writing.