Spaghetti with Veggies, 'Meats' & Avocado Sauce
Our fridge and pantry were running low and all we had were mushrooms, two ripe avocados, some herbs (parsley and cilantro), limes, some leftover vegan "meats" (Field Roast Breakfast Sausage and Upton's Bacon Seitan) from Saturday's hearty brunch, a small leek stalk and two ears of corn: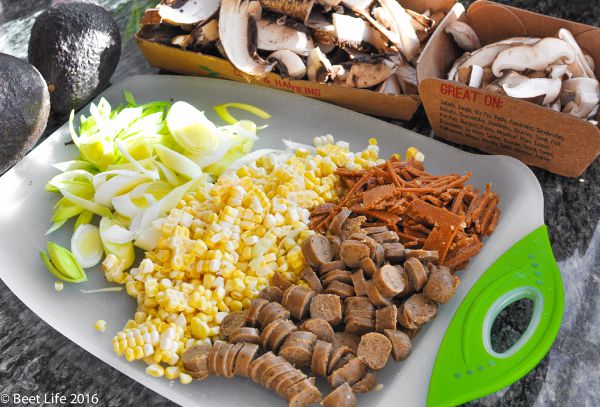 We would have made chipotle rice bowls with these ingredients, but we were also out of rice. We had Soybean Spaghetti in the pantry so why not try a pasta dish with avocado sauce?! It was surprisingly delicious!
This dish serves 6 people. It has 407 calories and 36.2 grams of protein. Enjoy!
Spaghetti with Veggies, 'Meats' & Avocado Sauce
Yield: 6 servings
Preparation: 8 minutes
Cooking: 27 minutes
Total: 35 minutes
Diets: Vegan Vegetarian
Ingredients
Instructions
Follow pasta box instruction on how to boil spaghetti. If you're using soy or bean pasta, undercook the pasta. Turn stove off. Set aside 1 cup of pasta water. It will be used for the avocado sauce later. Drain water and set aside.

While the pasta is cooking, use olive oil to sautee leek, mushrooms, bacon and sausage. Stirring frequently, add balsamic vinegar, crushed red pepper flakes and Bragg's liquid aminos. Turn stove off.

In a separate pot, boil the cup of pasta water you set aside. Add corn, cilantro, parsley and lime. Turn the heat off when the corn is cooked, around 2 minutes.

Add the avocados to the corn and pasta water mixture. Mash the avocados in the pot and mix well. Make sure the stove is off.

Combine avocado corn sauce and spaghetti. Add some warm water if the sauce is too thick. Add the sauteed "meats" and veggies on top similar to the cover photo for this recipe or combine all elements together like this:
Remember to tag #ourbeetlife if you try this recipe!
You'll notice that we also added chickenless chicken cutlets, but that is optional. We found some in the freezer so we decided to pop them into the toaster oven and add it in the dish last minute. We used Gardein Seven Grain Crispy Tenders.
Disclaimer - This is not a sponsored post. We are not affiliated with any products or brands shown or mentioned in this post and we did not receive any compensation for writing this post at the time of writing.