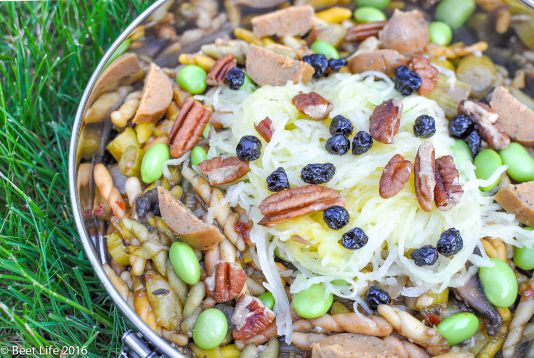 Spicy Balsamic Trail Pasta
This summer we are participating in the Appalachian Mountain Club (AMC) Summer Hiking Series. It's essentially a bunch of people coming together who are interested in hiking NH 4000 foot peaks. The series include 4 guided hikes designed to help us get into good hiking condition. The first (warm up) hike was at the Blue Hills Reservation in Milton, MA. We hiked around 6.13 miles– Skyline Loop (Eliot Tower- Park Headquarters) then Buck Hill through Tucker Hill and back.
Nutrition is very important when hiking. I burned 2,231 calories hiking at Blue Hills! A person generally burns from 400 to 600 calories per hour when hiking. That's a lot of energy coming out that needs to be replenished! This dish is designed specifically as a trail lunch so it has plenty of protein, calories, good fats, carbs and nutrients to keep you feeling good and energized! I made it the night before and stored it in Life Without Plastics Stainless Steel Airtight Watertight Food Storage. This meal can be eaten cold, warm or hot.
Read More